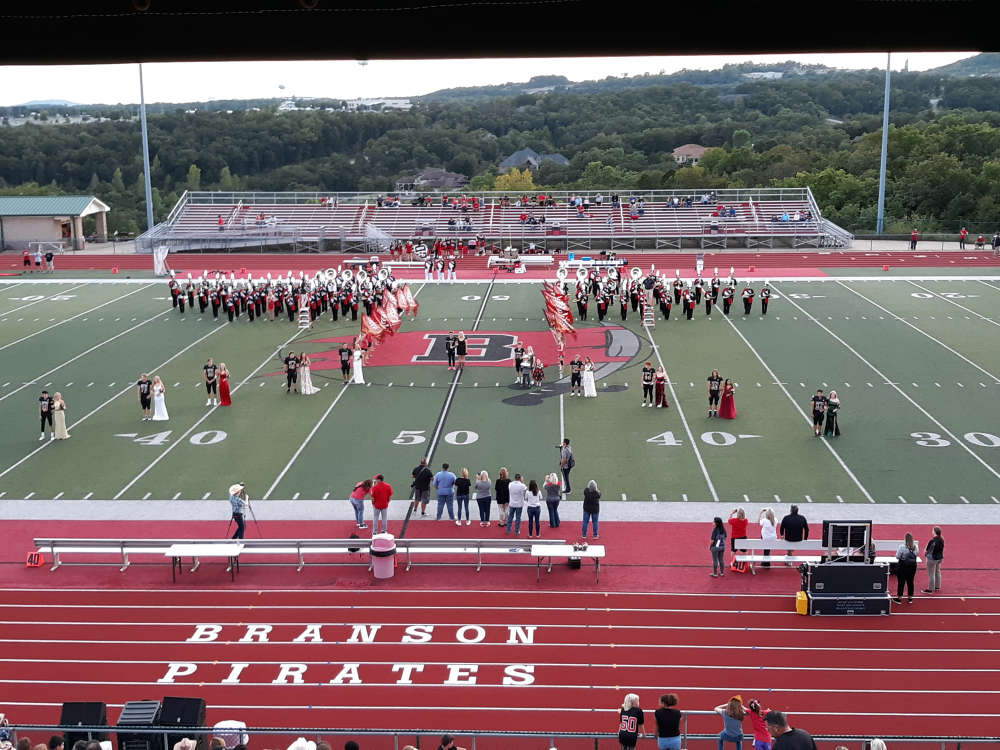 Homecoming Court at Branson High School (Photo by Scott McCaulley)
In football games covered on MOARK Sports Friday night, four of the area teams come out victorious.
The Branson Pirates were the lone team not to gain a victory Friday night, as they committed four turnovers which helped visiting Carl Junction grab a 32-7 victory spoiling the Pirates Homecoming Night.
Homecoming was better for Reeds Spring, as the Wolves rallied from a six point halftime deficit to down visiting Marshfield 26-19. The Wolves trailed 19-13 at halftime but kept the Blue Jays off the scoreboard in the second half to gain the win.
Another big win earned by an area team happened in Harrison, as the Goblins hold off Farmington 21-14. The Goblins broke a 7-7 tie late in the first half and held on from there to earn a win in their 5A West opener.
The Forsyth Panthers go to 4-1 on the season as they climb out of an early 14-0 hole and outscore Skyline 35-0 only to see the visiting Tigers close the game on a 20-0 run but fall a point short, losing 35-34.
Hollister rebounds from last week's loss against Reeds Spring in the Backyard Battle and rally for a win at Aurora 21-18.
Scoreboard
Arkansas 5A West
Harrison 21 Farmington 14
Shiloh Christian 55 Dardanelle 0
Prairie Grove 48 Pea Ridge 31
Alma 41 Clarksville 13
Other Arkansas Scores
Perryville 44 Yellville-Summit 6
Lincoln 42 Green Forest 12
Marshall 51 Fountain Lake 26
Ozark 50 Berryville 15
Missouri COC
Carl Junction 32 Branson 7
Republic 49 Willard 22
Nixa 49 Joplin 35
Webb City 55 Ozark 40
Carthage 47 Neosho 7
Missouri Big 8
Reeds Spring 26 Marshfield 19
Hollister 21 Aurora 18
Seneca 55 Monett 20
Lamar 56 East Newton 6
Nevada 36 Mount Vernon 23
McDonald County 21 Cassville 14
Rogersville 48 Catholic 0
Other Missouri Scores
Forsyth 35 Skyline 34
Central 21 Strafford 10
Buffalo 37 Sherwood 27
Marionville 44 Diamond 3
Pierce City 47 Clever 7
Butler 32 El Dorado Springs 0
Glendale 21 Bolivar 6
Lebanon 52 Waynesville 14
Camdenton 31 West Plains 14
Rolla 55 Hillcrest 20