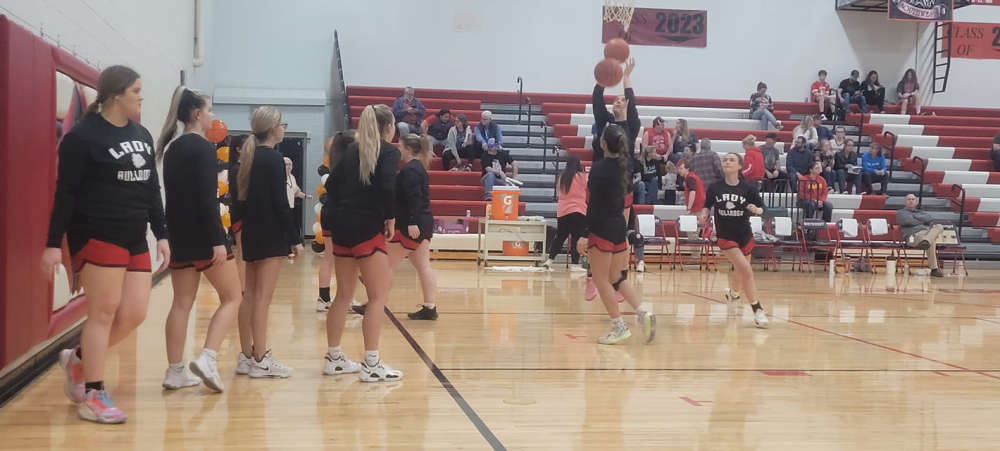 Blue Eye warming up prior to Monday's game at Southwest. (Photo by Perry Phillips)
Monday's games on MOARK Sports Dot Com included a road win and home loss for area teams.
The Branson Lady Pirates, like many schools playing for the first time in over a week due to last week's winter weather, hosted the Ozark Lady Tigers in a Central Ozark Conference Game. The Lady Pirates used an 8-0 run to tie the game early in the second quarter but then saw Ozark answer with a 12-0 run and steadily pulled away for a 55-25 win. Both teams are now at .500 for the season, Branson 9-9, Ozark 10-10.
Meanwhile also on MOARK Monday night, the Blue Eye Lady Bulldogs get a road win in Washburn, beating Southwest 57-36.
Tonight on MOARK Sports, the Branson Boys will play host to Ozarks. The Game will be covered by Perry Phillips on his channel at MOARK Sports. Also tonight, Harrison travels to Mountain Home for Girls and Boys Games that can also be heard on KHOZ 94.9. The Goblins are coming off a 59-57 win over Russellville in a make-up game Saturday.
Monday Scores:
Missouri Girls
Ozark 55 Branson 25
Blue Eye 57 Southwest 36
Crane 51 Billings 42
Hurley 58 Exeter 22
Sparta 72 Galena 27
Spokane 54 Purdy 45
Monett 56 Cassville 43

Missouri Boys
Chadwick 56 Bradleyville 22
Exeter 58 Hurley 48
Arkansas Girls
Jasper 57 Omaha 42
Arkansas Boys
Jasper 67 Omaha 58
Bergman 67 Lincoln 66
Elkins 59 Valley Springs 57
Green Forest 63 Flippin 46